AFTER SALES SERVICE
SPARE PARTS AND GUARANTEE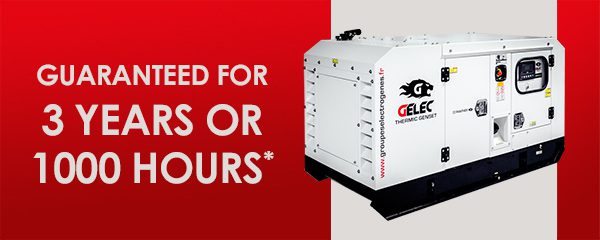 G

elec after-sales service

By becoming the owner of GELEC Energy equipment, you enter a world of high standards and superior performance.

Conscious of constant technical changes and always in contact with manufacturers, our mechanics and coil-winders stay up to date with technology, thanks to close collaboration with our suppliers.

Equipped with specialized tools, our warehousers, diesel mechanics and our cable technicians are trained to be able to respond to any kind of repair, maintenance or breakdown.

They are also equipped to diagnose, in real-time, generators that are returned to our after sales service.

GELEC customer service performs a complete diagnostic of your equipment in total transparency, and provides a free estimate, directly or in partnership with the approved repair shop in your area.

For the downtime of your equipment, we can offer you equipment rental solutions.
M

ore THAN 1,000 SPARE PARTS IN STOCK !

Our spare parts service always has a large supply of the latest parts to replace worn parts or for consumable supplies, as well as more than 1,000 standard spare parts such as motor parts, alternators, regulators, controllers, body parts, etc.

Our warehousers have technical training that allows them to give you advice and to deliver your parts as quickly as possible.

We have a logistical platform that ensures the best availability and quickest delivery of your spare parts throughout France and the rest of the world.
G

elec, A FLAWLESS ORGANIZATION:

1 store in Yffiniac (France) that makes a wide range of original parts available to you.

Real time processing of orders.

Express delivery in France and internationally.

Orders accepted from Monday to Friday from 8:00 to 5:00.

MORE THAN

1000 STANDARD
SPARE PARTS

IN STOCK
Availability of spare parts
In our online store
GUARANTY
Guaranteed for 3 years or 1,000 hours*
T

he GELEC guaranty

Tough and strong, our electrical generators can handle any task you give them. All of our models have been designed with reliability in mind. All of our equipment is guaranteed for 3 years or 1,000 hours*(whichever comes first).

*Guarantee valid only in mainland France. Outside of this area, the guarantee is 1 year or 500 hours.
Our services
Installation - Maintenance, Leasing, Financing
Installation and maintenance
Our technicians, partners, electricians and diesel mechanics are all experienced and will put all of their skills and know-how at your disposal.
When you entrust the maintenance of your generator to GELEC, you are assured of the best upkeep of your equipment and a longer life span.
FINANCE YOUR EQUIPMENT 100% AND CONSERVE CASH FLOW!
GELEC ENERGY offers support to its customers in all activity sectors by granting customized financing terms.