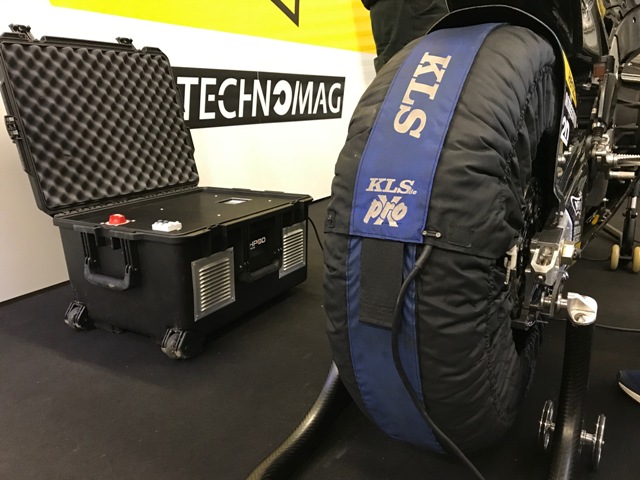 HPOD MICRO TESTED AT THE FRENCH MOTORCYCLE GRAND PRIX
HPOD MICRO tested at the French Motorcycle Grand Prix by the CarXpert-Interwetten team, world championship runners-up!
On the starting grid, the HPOD Micro is tested to supply the heated tyre covers. After the French GP, it will be used for the Italian, Spanish and Dutch Grand Prix.
With a technical base in the South of France, where it is housed in its own premises, the team wears its Swiss colours proudly: "We prioritised practicality, which is why we looked for premises within the Paul Ricard circuit at Castellet. The conditions there are ideal", explains team manager Fred Corminbœuf. Team CarXpert, bearing the name of the main title sponsor, is a Swiss company managed by Olivier Metraux with a business distributing spare parts and service based on car and HGV maintenance. In 2017, the CarXpert-Interwetten team is represented by: Moto 2 GP riders: Thomas Lüthi (Swiss), Jesko Raffin (Swiss) Iker Lecuona (Spain), World Team runners-up Moto 2 2016. Moto 3 CEV rider: Andy Verdoya, Jason Dupasquier, Technical Director: Gilles Bigot.
For the French Motocycle GP at Le Mans this weekend Thomas Lüthi took pole position and a podium finish in 3rd place. He is 2nd in the championship ranking.